The analyst's ace card: unearthing insights 20x faster with Adarga Vantage
Written by a Research Analyst at Adarga
Adarga Vantage employs AI to help analysts and researchers explore and exploit vast quantities of internal and open-source information, presenting it in a way that can be rapidly interrogated. Think of it like an AI teammate that shoulders the cognitive burden of time-consuming, repetitive tasks so that you can dedicate more time to doing only what you can do: insightful, relevant, and reliable analysis.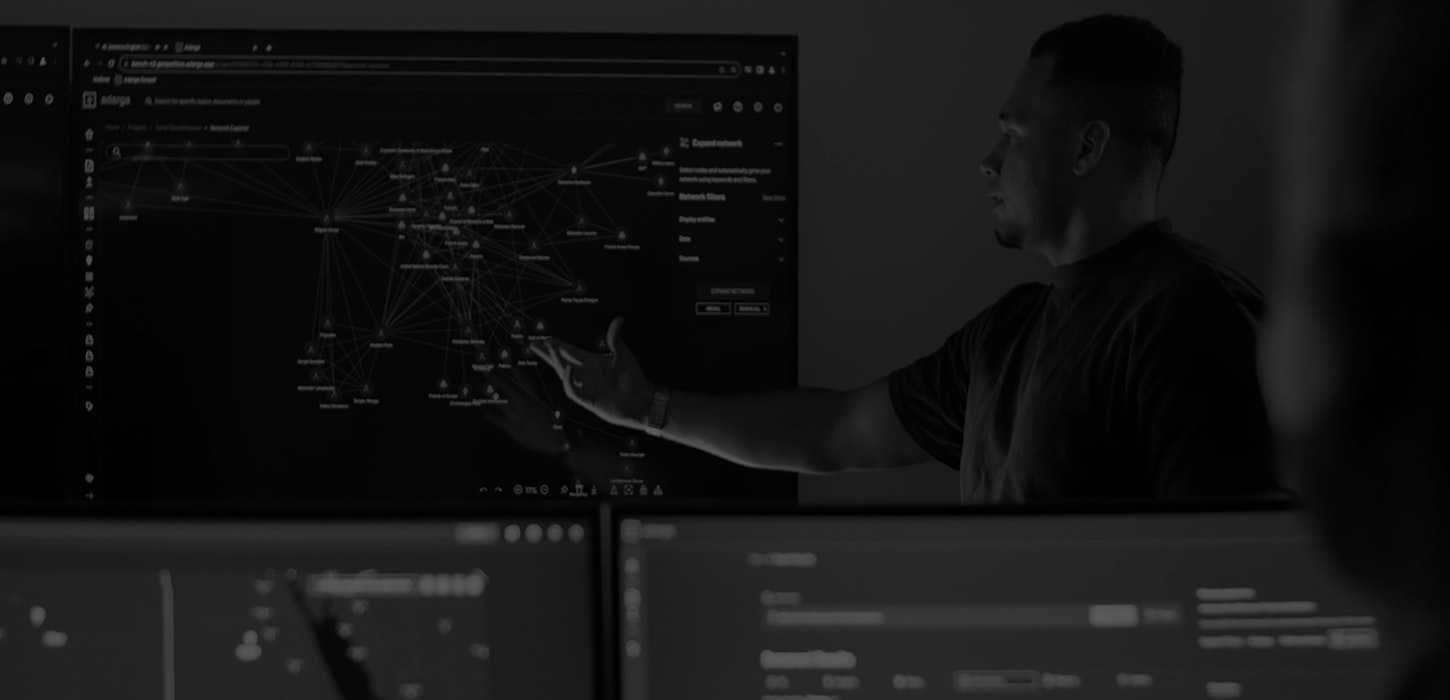 When I first joined Adarga, I'd already been using the company's technology for the best part of a year as a customer. Even back then, I hadn't come across anything like it in my career. And now, nearly twelve months on, the new Vantage information intelligence capability is unrecognisable from the tool I first tried out.
The speed at which it develops is, in a word, extraordinary. Tweaks occur weekly in response to and in anticipation of user feedback. New iterations and features appear every month. Vantage isn't a static product; it evolves in line with technological advancement, customer requirements, and Adarga's internal vision. That's good news for organisations that need to keep pace with ever-evolving geopolitical risk pictures, or analysts who want to exploit the latest tech to do better, more nuanced work faster.
Take Synthesis. It's one of a range of new features that I never knew I needed but I now consider indispensable. Rather than working across 200 tabs, scouring endless search engine results, or trying to make sense of what information is relevant and what's not, I can use Synthesis to generate corroborated, contextualised summaries organised by theme. The summaries are drawn from millions of internal and open-source documents, videos, and reports, and help ensure that the most relevant information in ready for in-depth analysis as quickly as possible.

Then there's the Network Explorer, which draws on millions of data points to show me - at a glance – complex, dynamic connections between people, places and organisations that I'd easily miss otherwise. It presents me with an evidence trail, too, so I can keep track of how these relationships have changed and evolved over time.
One of the latest updates is a feature called Q&A, which lets me interrogate information, using natural language. At first glance, it looks similar to ChatGPT but under the hood it's fundamentally different. Q&A helps me when I need a fast answer to a specific question relating to my own curated internal and open-sourced data sets. It provides me with a precise, written response (instead of just a list of results) that cites its sources so you can quickly validate the results. It's It even highlights contradictory points in my information.
Features like these get me to the 'so what?' of my research in minutes where I'd previously be chasing this over long hours and late nights. And when I've only got a small window in which to research, analyse and report my findings, being able to land on that lightbulb moment much earlier leaves me more time to do what I do best: turning information into valuable, reliable insights.
The role of AI in research and analysis
I was, to be perfectly honest, sceptical at first. Could I trust a machine – smart though it may be – to do what I do manually, and to do it as effectively? I soon realised that Vantage wouldn't replace or disrupt my workflow. Instead, it accelerates some elements and augments others, shouldering a huge mental load so I can focus on delivering balanced, in-depth, well-evidenced analysis at speed.
And that's a huge morale booster. As an analyst, there's always so much information to contend with. The sheer amount of it leads to constant concerns over what I might have missed during my research; what's reliable, and what's laced with bias; what's relevant, and what's best left untouched. I not-so-fondly recall the frantic use of 'cntrl+F' to sift through articles, endless headaches from eyestrain, and the nagging dissatisfaction that my report wasn't up to scratch because I simply hadn't had time to produce something I'd deem reliable, trustworthy, or valuable to the decision maker who requested it in the first place.
Vantage is like having a team of 20 analysts helping me around the clock to find, corroborate, store, and extract useful information that I can quickly build into my report.
Putting the technical aspects to one side for a moment, perhaps the greatest benefit of using Vantage is a personal one: I can take more pride in my work. I can be confident that I haven't missed a thing, that I've considered every angle, and done all this so much faster than I could have before. It's a huge confidence boost to deliver a better, more reliable and more relevant report, and leave your desk at the end of each day feeling that you've done your best work.
Click here to find out more about how Adarga Vantage empowers analysts to deliver superior, actionable insights that drive better decision making.